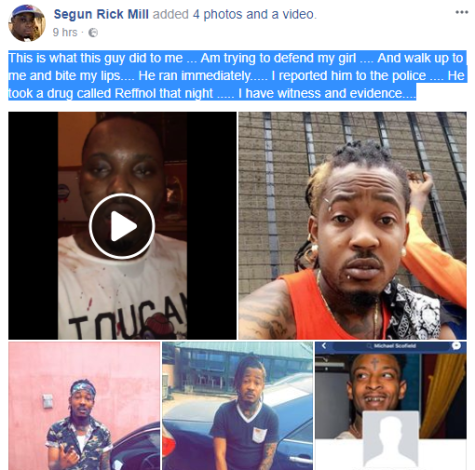 A Nigerian man, Segun Rick Mill, who tried protecting his girlfriend from an abuser he identified as Abayomi a.k.a Street, had his lips bitten off in the incident that occurred inn Lagos.
Nigerian man's lips bitten off while protecting girlfriend from abuser lailasnews
Share
According to Segun who shared the story on his Facebook page, the abuser reportedly took Reffnol before the incident occurred.
Here's what he wrote;
"This is what this guy did to me ... Am trying to defend my girl .... And walk up to me and bite my lips.... He ran immediately..... I reported him to the police .... He took a drug called Reffnol that night ..... I have witness and evidence...."
"This is what a guy named Abayomi popular known as street.... Am trying to defend my girl friend that he keeps calling name .... He was on a drug called reffnol.... please if you see him handle him or report him to the nearest police station .... His name is Called street plz help reshare...."